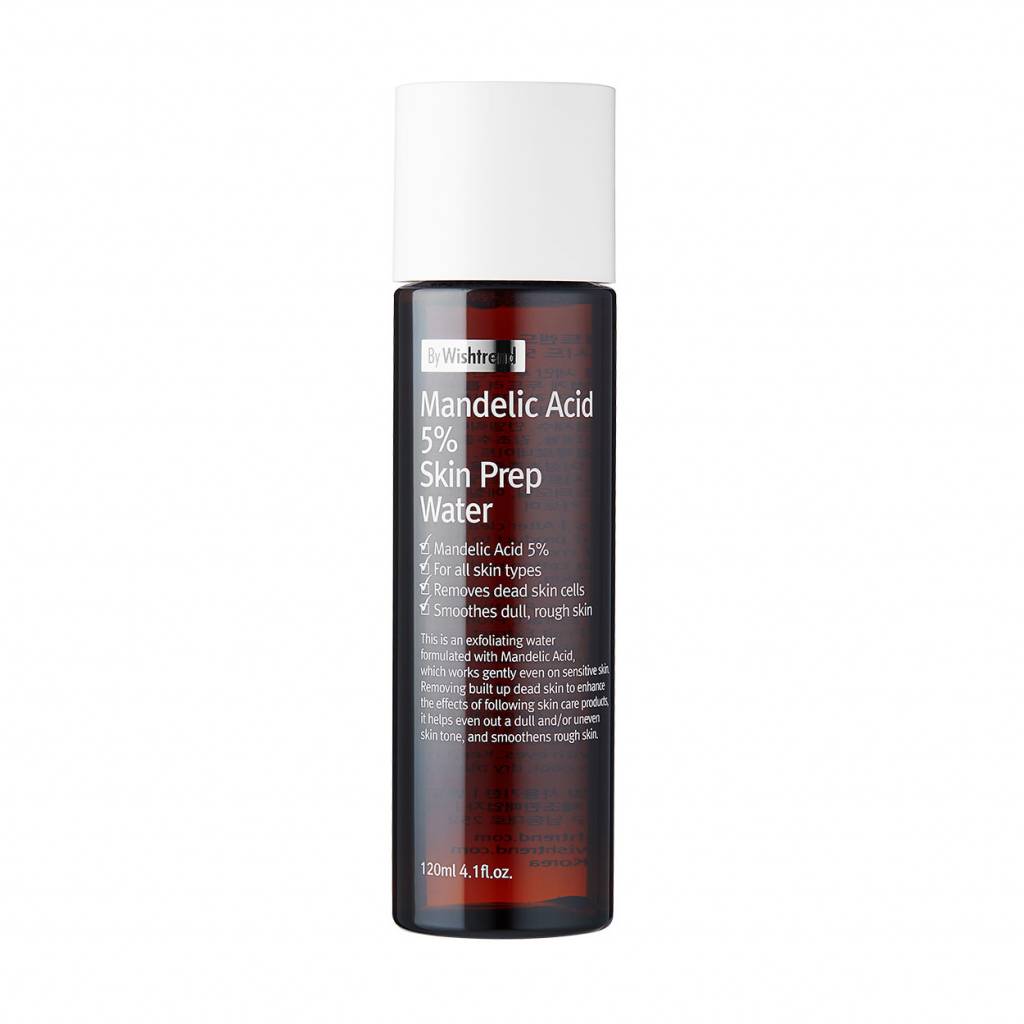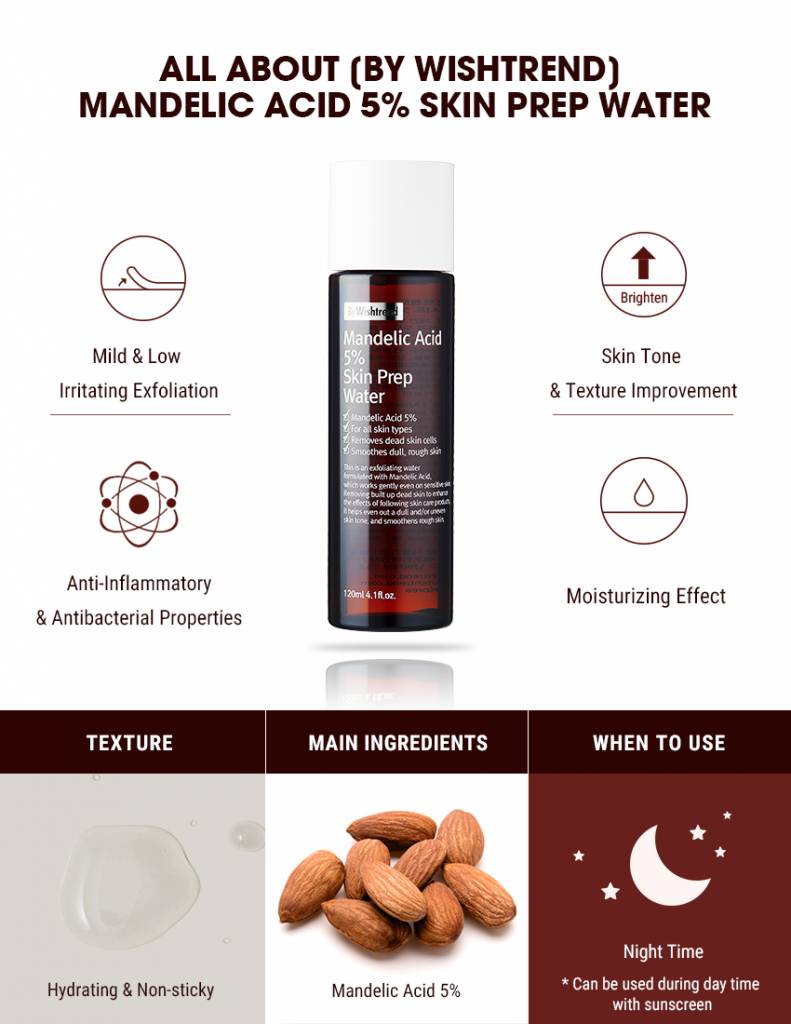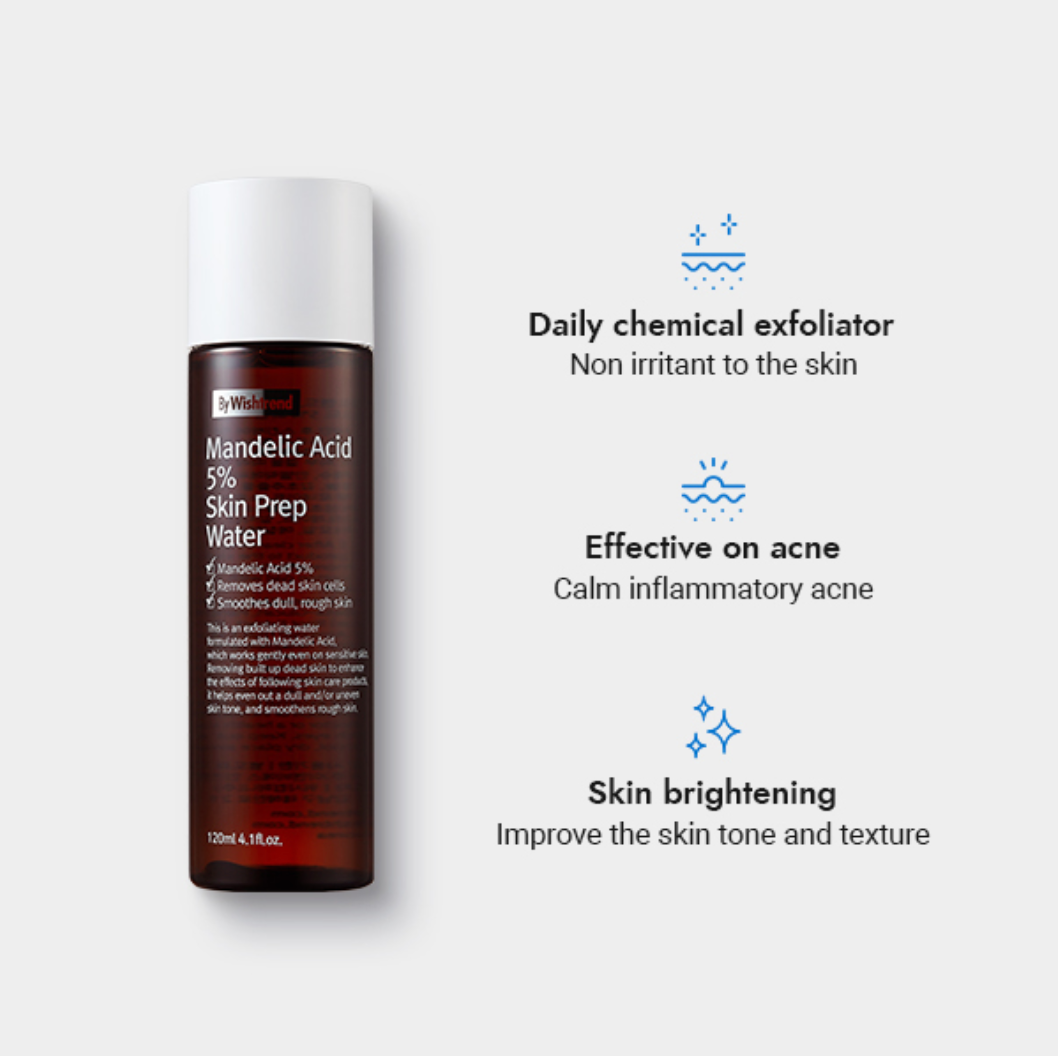 Mandelic Acid 5% Skin Prep Water | 120ml
Cruelty-free & Vegan friendly
BY WISHTREND Exfoliator
Acne-prone skin
All skin types
Remove dead cell & excess sebum
Ethanol-free, silicon oil-free & Artificial colour Free
Artificial fragrance-free
pH 4.5  ± 1.0

Mandelic acid 5%

Gentle exfoliation & Effective cell turnover!!!
A gentle exfoliator containing 5% of mandelic acid less irritating compared to other AHA ingredients. It contains ingredients such as Panthenol, Centella Asiatica Extract and Beta-Glucan to help hydrate the skin while improving the skin tone and skin texture by removing dead skin and impurities.
Key Ingredients
5% Mandelic Acid

The gentlest AHA acid that helps improve pigmentation as well as restoration of aged skin. It also contains antibacterial properties which are effective for inflammatory acne.
Beta-Glucan

Moisturizing, redness reduction, anti-inflammatory, and soothing effects.
Panthenol

Also known as vitamin B5, it acts as a humectant and moisturizer, improving the skin's abilities to regenerate and to maintain hydration. It is also used to prevent inflammation and to prevent itching.
Centella Asiatica Extract

Helps to regenerate damaged skin.
Sodium Hyaluronate

As a natural moisturizing factor, it attracts moisture and helps retain moisture within the skin, preventing dryness after exfoliation.
INGREDIENTS
Water, Mandelic Acid, Butylene Glycol, Beta-Glucan, Panthenol, Glycyrrhiza Glabra (Licorice) Root Extract, Prunus Amygdalus Dulcis (Sweet Almond) Fruit Extract, Sodium Hyaluronate, Sorbitan Sesquioleate, Centella Asiatica Extract, Houttuynia Cordata Extract, Sorbitol, Dimethyl Sulfone, Chlorphenesin, Sodium Citrate, Arginine, PEG-60 Hydrogenated Castor Oil, Ethylhexylglycerin, Natto Gum, Carbomer

HOW TO USE
After cleansing, soak the exfoliator with a cotton pad and wipe along the skin texture at the first stage of the skin care routine.
Vendor: BY WISHTREND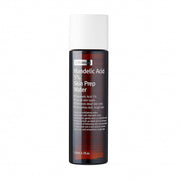 Mandelic Acid 5% Skin Prep Water | 120ml