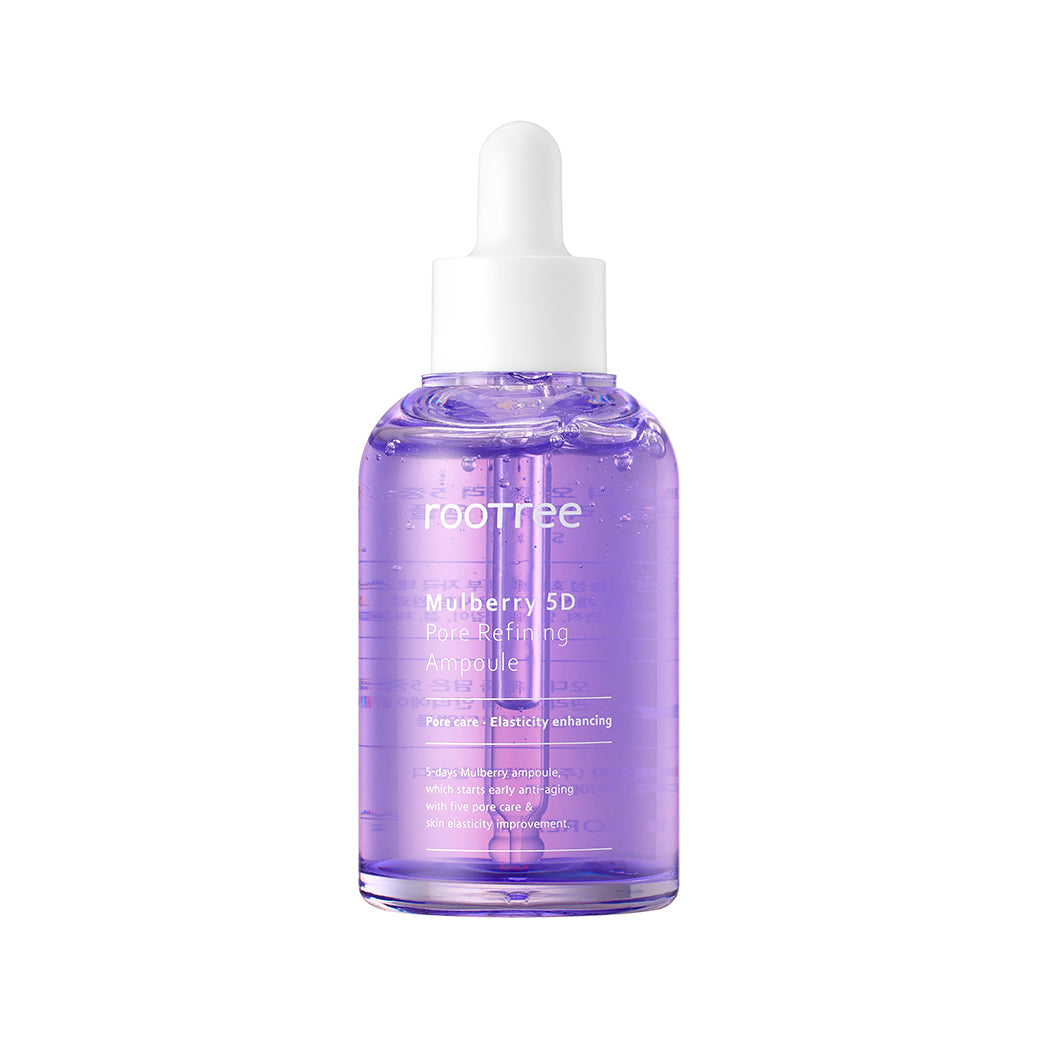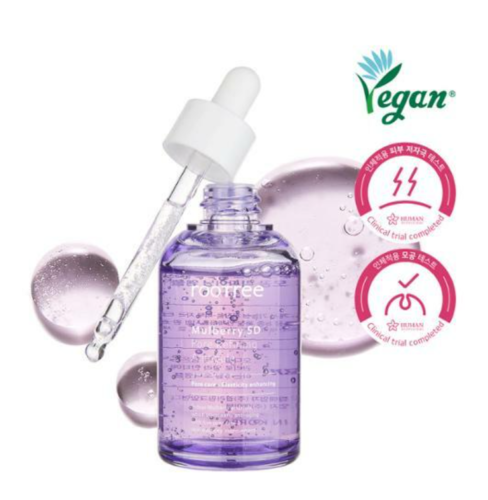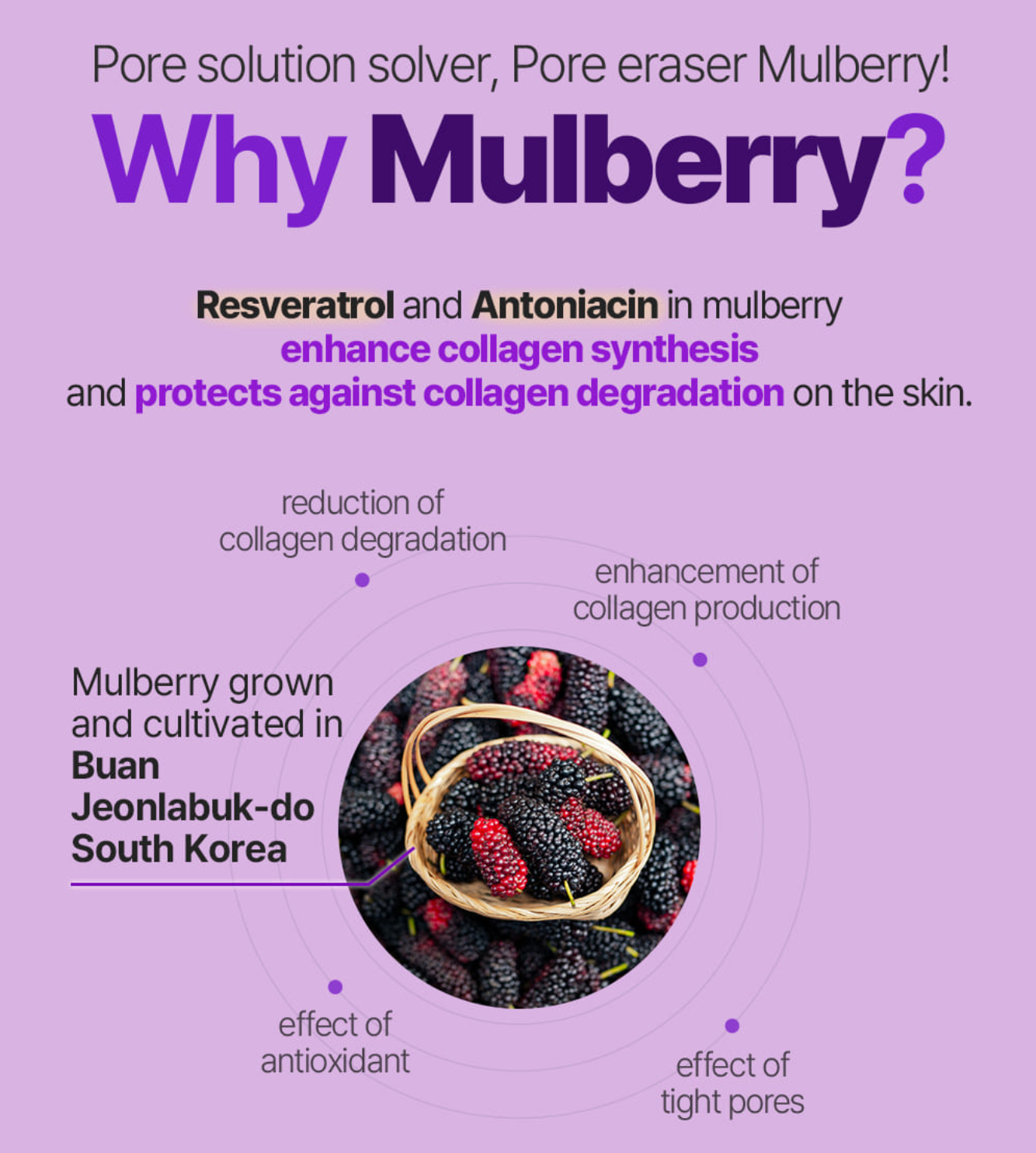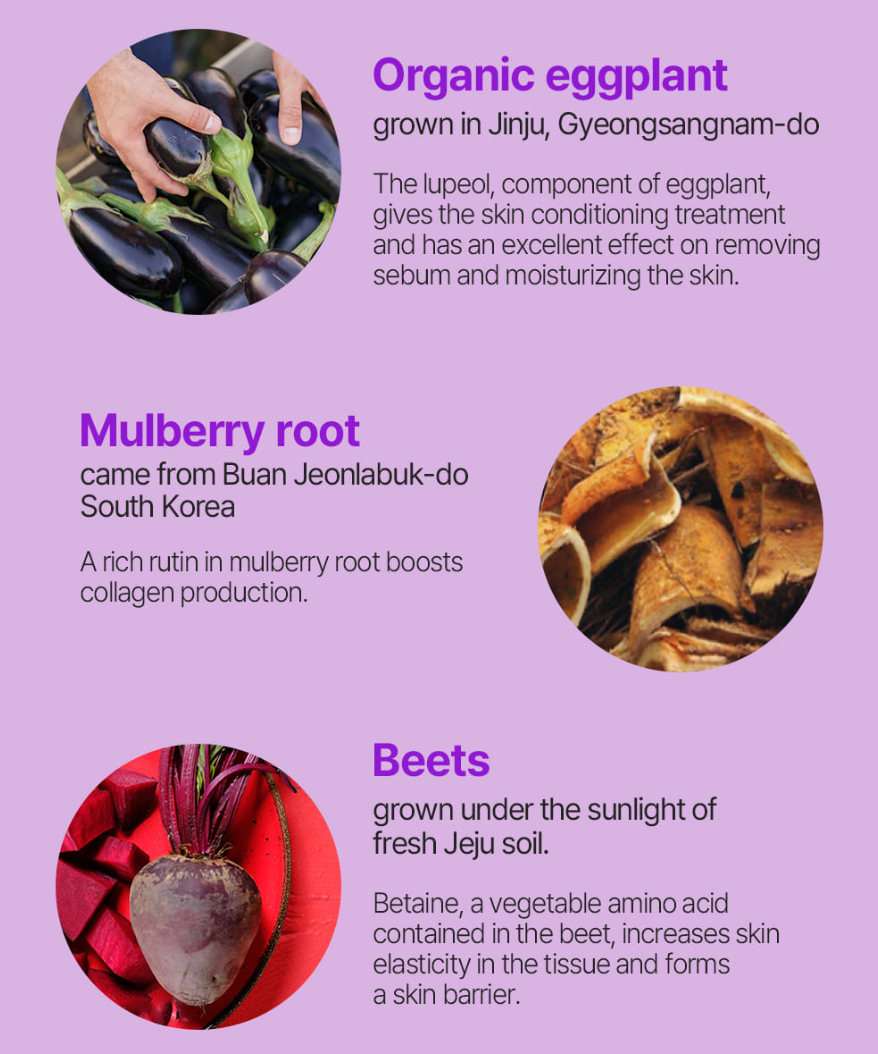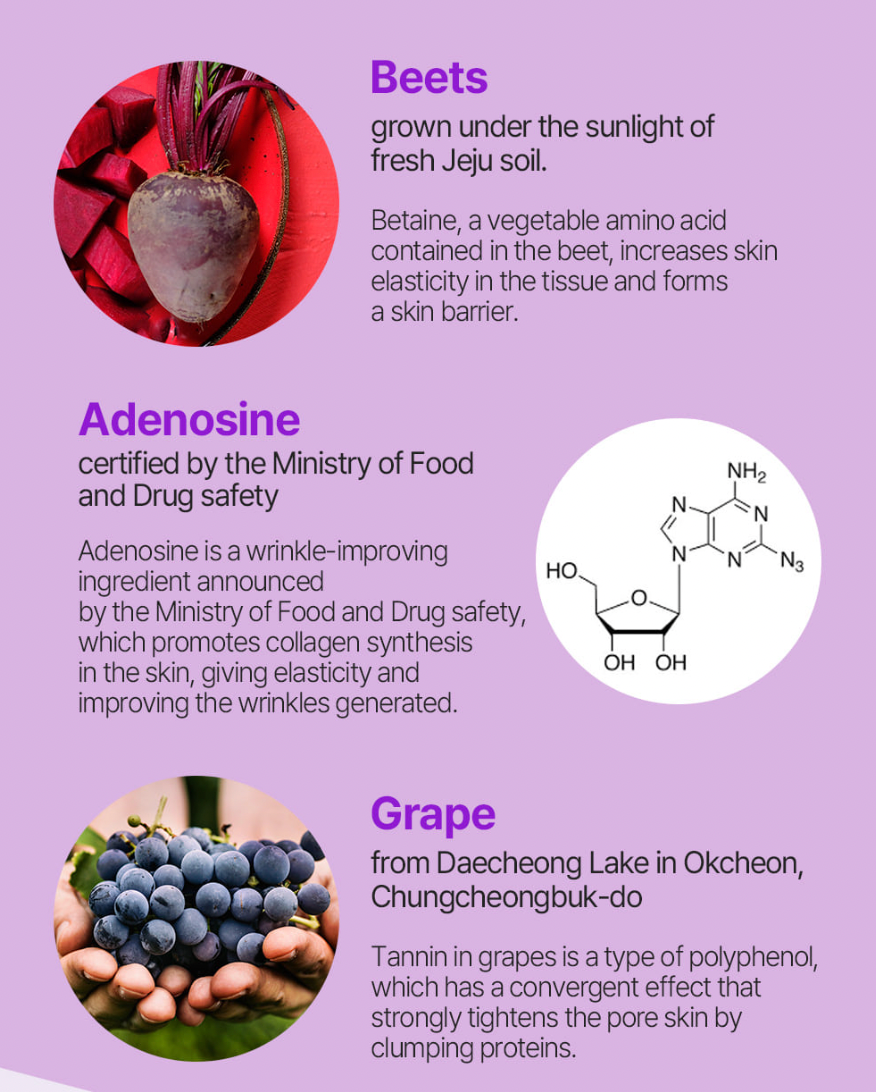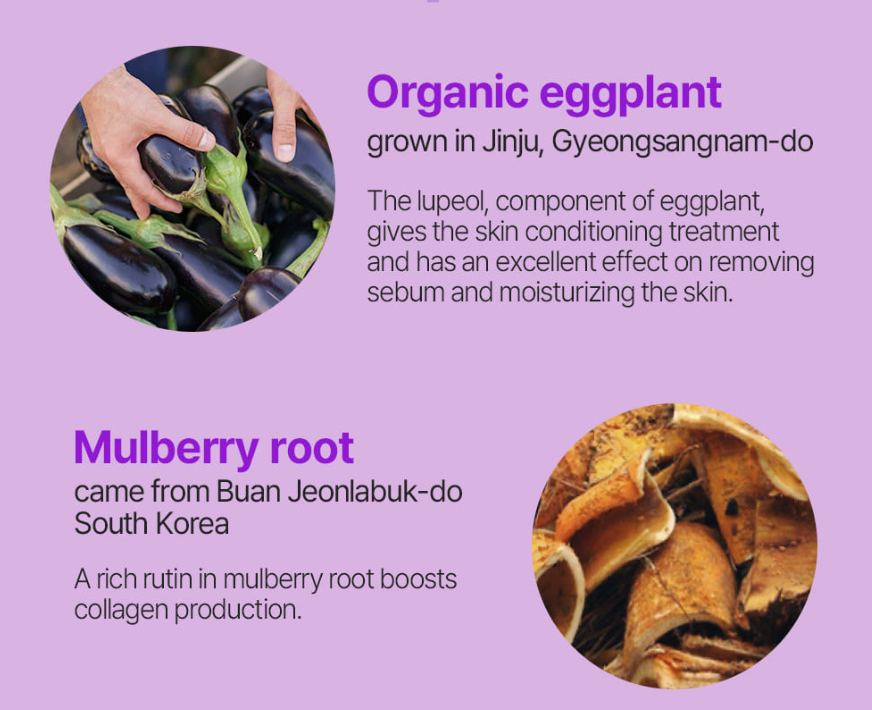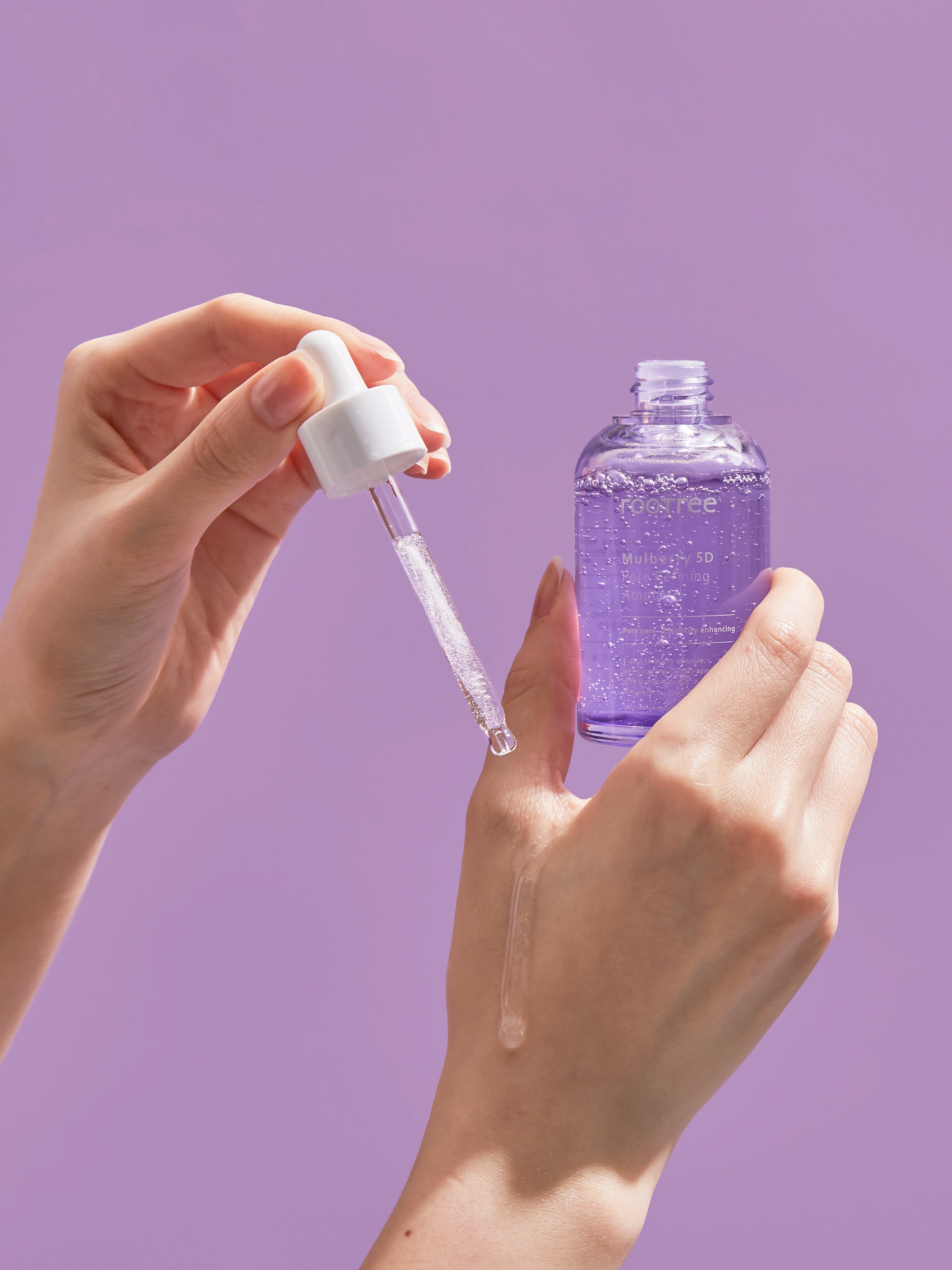 Mulberry 5D Pore Refining Ampoule | 50ml
Vegan  & Cruelty-free
Everyday Ampoule / Serum

All skin types
Day & Night
No paraben, phenoxyethanol & sulfates
Mulberry Extract
Luperol

PHA & LHA for light exfoliation

5 Days of miracle! Pore-breaking Mulberry 5D ampoule
A miraculous 5-day Mulberry 5-layer Pore Refining Ampoule.

If you've ever experienced a lot of pore troubles, it only takes 5 days for them to go away.
According to the reviews, it doesn't accumulate in the pores, the pore feels tighter, and the stretched pores become smaller. After studying pores for 8 years with a focus on the 5 fundamental causes of widening pores, this product provides a systematic solution. Clinical tests to check 9 pore improvement effects (improved pore volume, improved pore density, improved pore area, improved total pore volume, improved pore skin texture, improved pore elasticity, improved pore count, and improve pore depth) are completed.

Collected clean-washing raw materials such as Mulberry to proceed ultrasonic extraction at a low temperature of 25 degrees for 3 hours to filter out impurities and activate ingredients to preserve active ingredients by using the ultrasonic extraction method.
Key Ingredients
Mulberry's resveratrol and anthocyanins create collagen and avoid collagen breakdown.
Lupeol component in eggplant gives the skin conditioning, that adds onto sebum removal and skin moisturizing.
The rich routine in the upper Mori Cortex Radicis has a boosting effect on collagen production.
Betaine, a plant-based amino acid contained in beet, increases skin elasticity in tissues and forms a protective layer of the skin.
Adenosine is a Food and Drug Administration confirmed wrinkle remediation ingredient that promotes collagen synthesis in the skin, giving it elasticity and helps to improve wrinkles.
Tannins in grapes are a type of polyphenol, with protein-binding properties that strongly tighten the pores and have an astringent effect.
PHA and LHA ingredients gently dissolve and remove the dead skin cells that are clogging the pores.
Lupeol component in the branches dissolves the sebum that fills the pores, leaving room for the pores to shrink.
Contains mulberry, epithelium, beet, and adenosine to remove dead skin cells and sebum, filling the gaping pores tightly and reducing the width of the pores.
Tannins in grapes cool the pores and improve tightening, reducing the size of the pores' openings.
Niacinamide avoids melanin migration in the skin, avoiding dark pigmentation that makes pores look bigger.
Contains sodium hyaluronate and crosspolymer to protect the outer epidermis of the skin and avoid water evaporation.
Contains sodium hyaluronate, hyaluronate, and hydroxypropyltrimonium to enhance moisture penetration by adhering moisture to the skin.
Contains hyaluronic acid and potassium hyaluronate to provide essential moisture deep into the skin.
Contains sodium acetylides, hyaluronates, hydrolyzed and hyaluronic acids that penetrate the inner skin and enhance its moisturizing properties.

-The skin irritation test completed.
-The 100% extract gives off its pure purple glow.
-All ingredients uses the safe EWG green grade ingredients.
-Free of 20 harmful ingredients.
-Vegan product using plant-based ingredients.
-Product using eco-friendly packaging.
-As a planet-conscious brand, we have created a recyclable package to avoid environmental pollution.
INGREDIENTS
Water, Glycerin, Dipropylene Glycol, 1,2-Hexanediol, Niacinamide, Methyl Gluceth-20, Melia Azadirachta Flower Extract, Vitis Vinifera (Grape) Fruit Extract, Beta Vulgaris (Beet) Root Extract, Morus Alba Fruit Extract (242,500ppb), Morus Alba Root Extract, Coccinia Indica Fruit Extract, Gluconolactone, Solanum Melongena (Eggplant) Fruit Extract, Capryloyl Salicylic Acid, Hydrolyzed Hyaluronic Acid, Sodium Acetylated Hyaluronate, Ceramide NP, Hyaluronic Acid, Sodium Hyaluronate Crosspolymer, Potassium Hyaluronate, Hydroxypropyltrimonium Hyaluronate, Sodium Hyaluronate, Panthenol, Arginine, Acrylates/C10-30 Alkyl Acrylate Crosspolymer, Polyglyceryl-10 Laurate, Xanthan Gum, Allantoin, Hydrogenated Lecithin, Butylene Glycol, Adenosine, Disodium EDTA, Rosmarinus Officinalis (Rosemary) Leaf Oil
HOW TO USE
After cleansing in the morning and/or in the evening, apply the toner to the face, neck and décolleté with a cotton pad or your hands and work in by gently tapping. We then recommend completing the routine with a cream (also with sunscreen in the morning).
Vendor: Rootree
Mulberry 5D Pore Refining Ampoule | 50ml